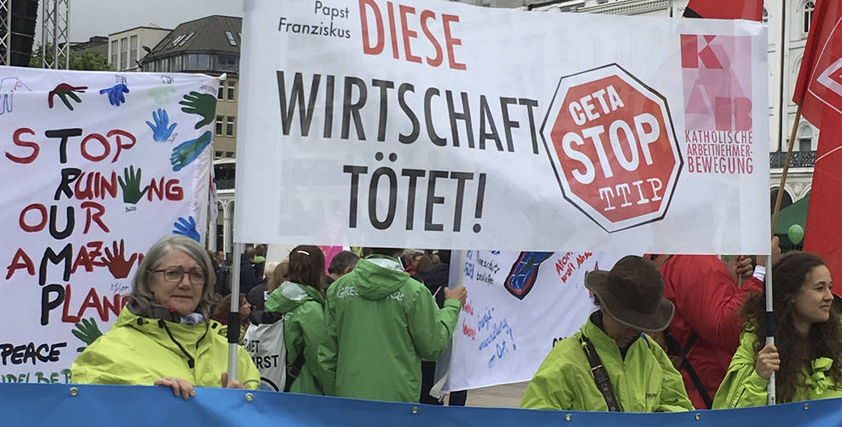 COMMITMENT WITH HUMAN DIGNITY, JOINT MANAGEMENT AND SUSTAINABILITY
Work is a essential element of human dignity. That is why the dignity of man, given by God, must be respected in the working world. In Germany, Europe and the world, millions of people have not a job to feed themselves and their families. The mechanization, automation and digitalisation must not lead millions of people to exclusion. The exploitation of resources causes irreparable damage and inhuman working conditions. The digitalisation of economy leads to precarious working conditions; around the world, the 60 per cent are employed in the informal sector, without social security, without labour rights and low wages.
We say, with the Pope Francis, "thou shalt not" to an economy of exclusion and inequality. Such an economy kills. (…). As a consequence, masses of people find themselves excluded and marginalized: without work, without possibilities, without any means of escape.(Evangelii Gaudium 53)
WE DEMAND WORK FOR EVERYONE AND DECENT WAGES IN THE DIGITAL WORLD!
100 years of International Labour Organization (ILO) have not given to workers all over the world the social and labour rights stipulated in the ILO regulations. Millions of them are deprived of fundamental labour and human rights; they cannot set up works council or organise themselves. The development towards peace, progress and social justice is only possible if all the countries in the world ratify these regulations.
WE DEMAND THE GLOBAL IMPLEMENTATION OF JOINT MANAGEMENT AND LABOUR RIGHTS according to ILO!
Work and labour conditions keep damaging to health and death. Decent work means healthy conditions and provide a means of living. Europe needs a global regulation for a living minimum wage in the EU different countries. The companies that run at world scale must be legally complied to implement the labour rights and minimum wage standards in their production chains.
WE DEMAND A JUST AND SUSTAINABLE MINIMUM WAGE IN ALL OVER EUROPE AND WORLD!
We must put an end to the exploitation of human beings and our Mother Earth. Peace, progress and social justice for all will be only possible if the sustainable development objectives are reached all over the world.
There is no peace without sustainable development and without justice.         
-----------------------------------------------------------------------------
This message has been written by KAB Germany
WORLD MOVEMENT OF CHRISTIAN WORKERS
WBCA/KAB -Bernhard Letterhaus-Str.26 – 50670 Köln – Germany – 0049 221 7722-0 – www.kab.de