Page 1 of 4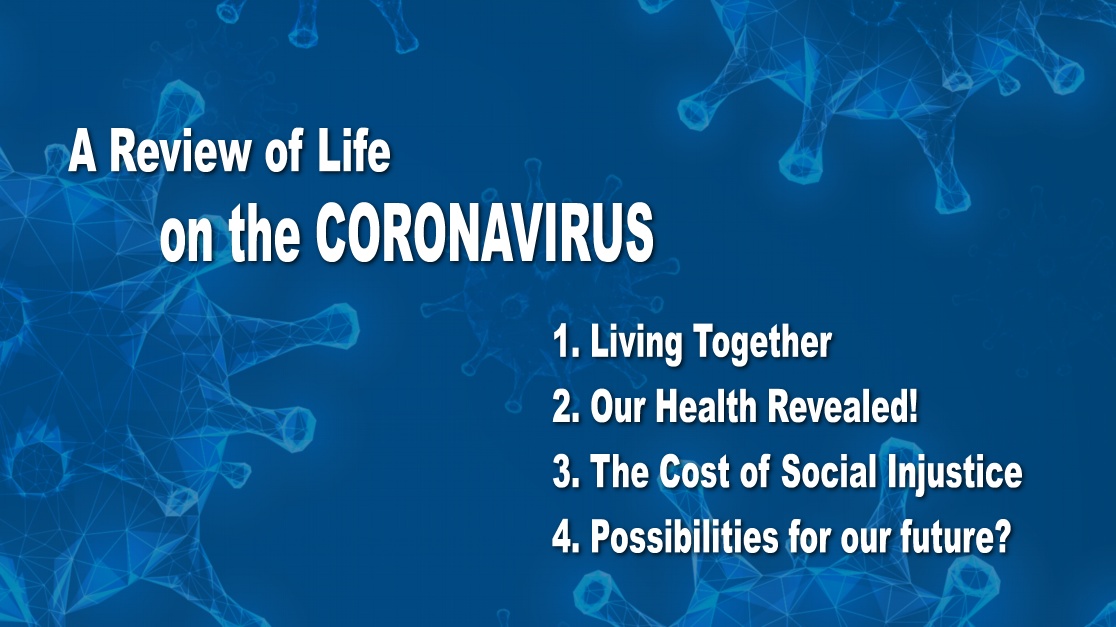 The WMCW offers you a four-part Review of Life about the situations experienced during this period of coronavirus pandemic. Propose it to your activists and send your thoughts to the This email address is being protected from spambots. You need JavaScript enabled to view it.. Good reflection !
A Review of Life No: 1 on the Coronavirus-
Living Together
SEE:
What are the feelings you have when you think about the Coronavirus crisis? (Fear, hope, Solidarity? Death, etc…)
What has been your experience of the Lockdown?

What have been your preoccupations?
What have you discovered?
3.What discoveries have you made about the international dimension arising from this crisis?
4.In relation to those around you, your family, your friends and neighbours, what has been their experience?
5.What have been the positive things, good moments, kind gestures that you have experienced?
JUDGE:
What have these events revealed that are important for our lives in the world?
What has been the motivation of the social movements…?
For the acts of solidarity, for supporting those in need of care in the neighbourhood etc?
For excluding others, rejecting support in the neighbourhood?
8.Can you share an article, a song or a video that could help in our reflections on this epidemic? Why have you chosen to share this particular extract?
Let's read the following texts
9- The son of a widow restored to life: Luke 7:11-17
•11 A little later Jesus went to a town called Naim and many of his disciples went with him – a great number of people. 12 As he reached the gate of the town, a dead man was being carried out. He was the only son of his mother and she was a widow; there followed a large crowd of townspeople.
13 On seeing her, the Lord had pity on her and said, "Don't cry." 14 Then he came up and touched the stretcher and the men who carried it stopped. Jesus then said, "Young man, awake, I tell you." 15 And the dead man got up and began to speak, and Jesus gave him to his mother. 16 A holy fear came over them all and they praised God saying, "A great prophet has appeared among us; God has visited his people." 17 This news spread out in the Jewish country and the surrounding places.
'..there is a key word of which we mustn't be afraid, it's that of solidarity, that is to say to put at the service of God, that we have our humble capacity, because it is only in sharing and it is in giving that are lives will be one that produces fruit. Solidarity is the word, badly regarded by the world. Solidarity is the spontaneous reaction of those who recognize the social function of property, the universal destination of wealth, as a reality that comes before private property' Pope Francis
How do I react to the expression "living together"?
What can I say about my faith, about my hopes in the midst of this global crisis?
ACT:
10.What am I going to do PERSONNALY to live together better in my neighbourhood, my borough, my place of work?
11.What are we going to decide we can do in the group, or at National level to the mentality of the way we can live to together?
12.What public statements should the national and international movement produce?
The minutes of your review of life meeting will be gratefully received email to: This email address is being protected from spambots. You need JavaScript enabled to view it.